The Latest Trend in In-Vehicle Personalization
It Not Only Adds Excitement but Also Enhances Experiences Per Mile
Vehicle owners and drivers have always had a desire to customize their vehicles, but until about a decade ago, this customization was made possible mainly through in-vehicle accessories, custom wheels, eye-catching decals and unique paint jobs. These aftermarket products and services created a personalized exterior that gave owners an opportunity to say something about themselves beyond just the car they drove. The interior options also offered a bespoke make-over with steering wheel covers, pedals, and ornaments of many styles and colors to make the vehicle stand out in a crowd. However, there were fewer opportunities at the time for infotainment or electronic display customization. Hence, the personalization focus fell short with just aftermarket audio hardware and simple radio station presets.
Consumer Expectations Changed the Form of Personalization
The transfer from vanity to functionality and convenience is largely due to a significant shift in consumer expectations. This change can be traced to the introduction and commoditization of smartphones, which allow a high degree of personalized content and services through app stores. Furthermore, cloud-based services are setting the expectation for cross-device portability of customized profiles and content, which was another factor for this shift in trend.
Looking at automotive trends, the next "big thing" with a direct effect on the user experience is the increase in personalization, namely in two areas.
The first area allows features and services to be personalized to the driver or user in the vehicle, and not to the car itself. This is a 'nice-to-have' in current ownership models, but quickly becomes important when thinking of shared vehicles, and essential in shared autonomous vehicles.
The second area is the transferability and portability of settings and preferences across multiple devices and platforms, allowing for a consistent and seamless user experience. The level of contextual behavior and automatic customization depends on the technologies at the developers' disposal. These can range from the ability to set simple user profiles, to leveraging Artificial Intelligence and Machine Learning that acquire knowledge of the user's habits and preferences.
Cameras, Sensors, Vehicle-to-Infrastructure Communication and More
Vehicles include more technology than ever before, allowing for further levels of customization. The advent and inclusion of interior cameras, biometric sensors, smart keys leveraging Ultra-Wide Band (UWB) frequencies, Vehicle-to-Infrastructure, and more.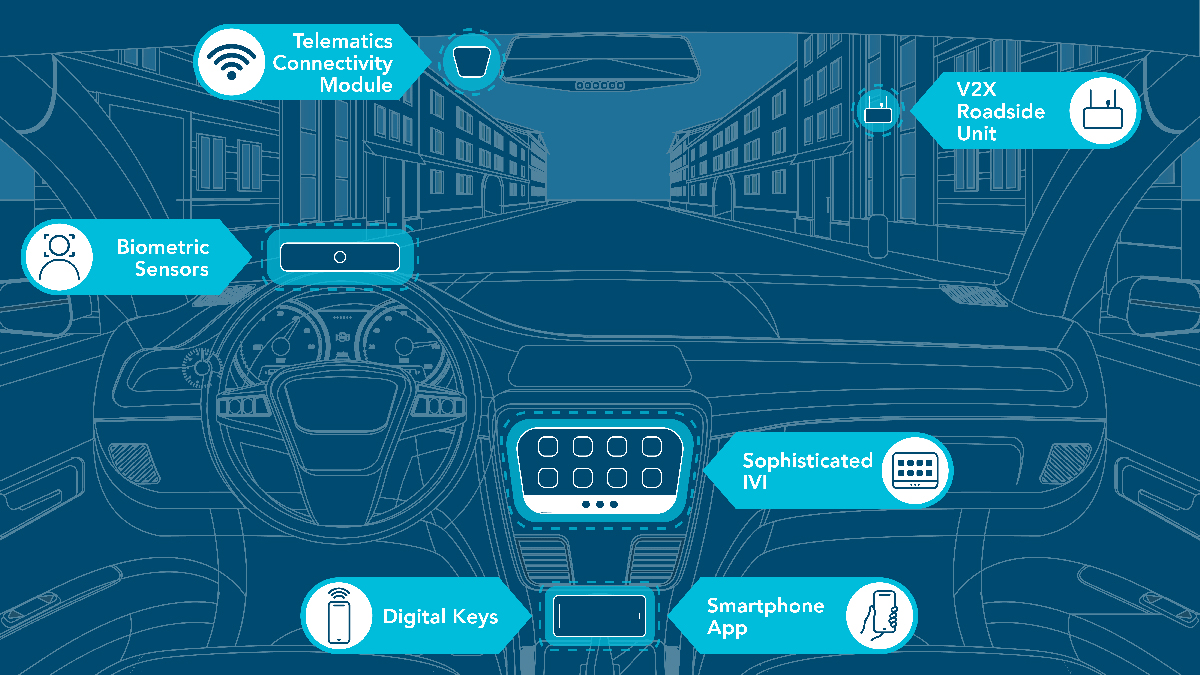 While these technologies might seem rare to some, research from SBD Automotive shows that almost all carmakers have rolled out connected services with smartphone companion apps. Even more novel are fragmented features like the digital key which is also finding a foothold with UWB frequency standards, getting adopted by three brands in the past 6 months alone. This is not surprising as a recent consumer survey by SBD Automotive showed more than 80% of consumers are interested in having emergency services, and more than 60% interested in using their smartphone as a key.
New Trends in Technology Taking Center Stage
With the implementation of these technologies, carmakers are already rolling out more personalized features, with the following trends taking center stage at trade shows and new vehicle announcements in the past few years.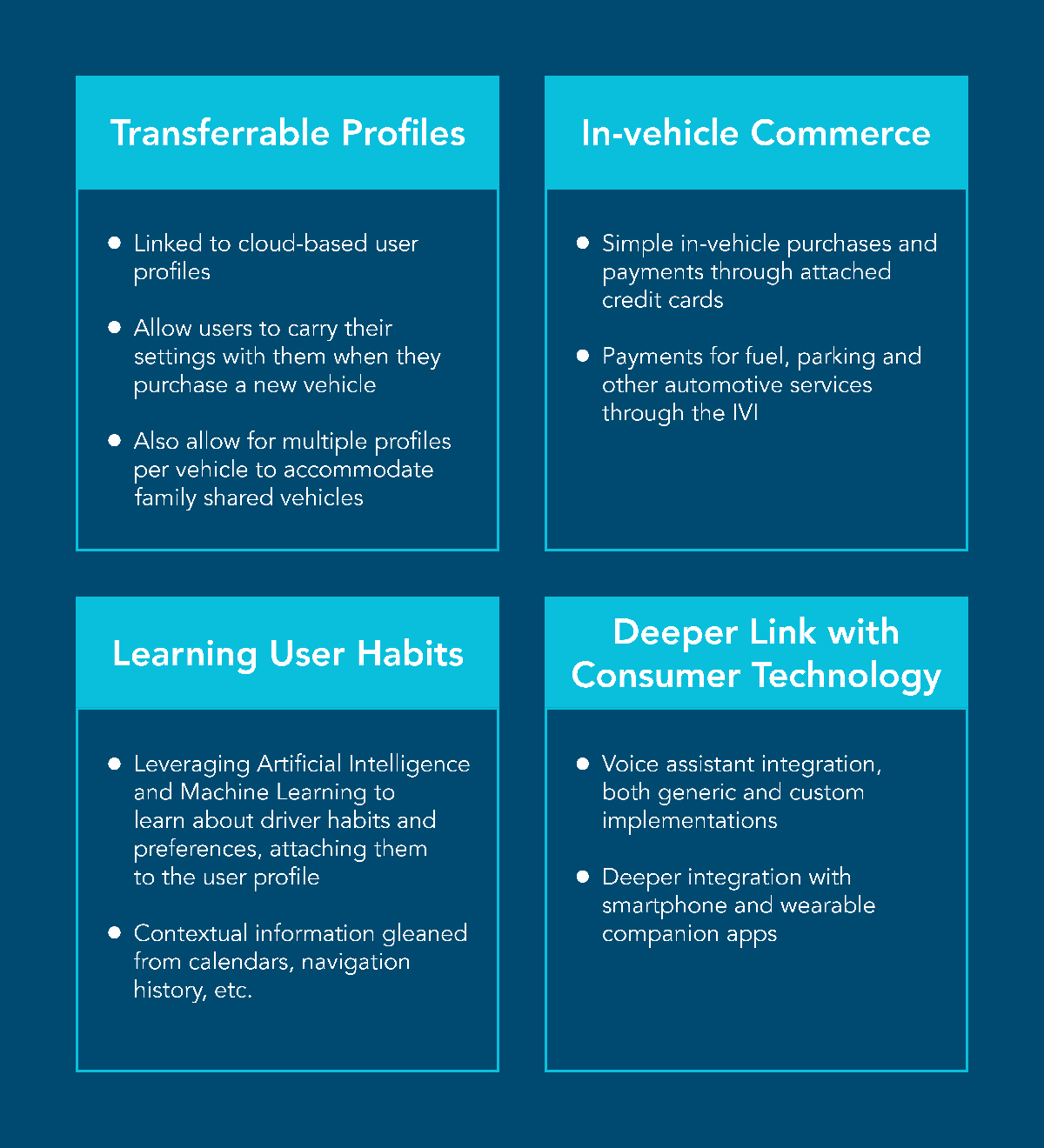 Looking to the future we will see a further evolution of in-vehicle personalization, including increased availability on entry-level vehicles and cross-brand portability leveraging third party operating systems and services. Increased attention will be given to the evolution of the in-vehicle experience with the continued introduction of electrification, sharing, and autonomy of vehicles.
Personalization Moving Forward
According to research from SBD Automotive, more than half of the current flagship infotainment solutions offer some level of advanced personalization, while almost one in four include connected or automatically personalized experiences. SBD believes this will increase as vehicle connectivity reaches practically 100% penetration in the US, Europe, and China in the next three to five years.
The most important lesson to remember is that the vehicle ownership experience will continue to evolve due to both the internal force of new technologies and the external factors of consumer trends. Adjusting alongside will be the Experiences Per Mile where this evolution will play an equally important role.
The Experiences Per Mile Advisory Council, facilitated by Harman and SBD Automotive, is comprised of industry executives that are studying all aspects of mobility including vehicle personalization. By fueling cross-industry collaboration and driving towards the same consumer experience objectives, we can advance the connected automotive industry and introduce meaningful technology and innovation.
For more information, on personalization and other industry trends, download the EPM 2030 Report written by the EPM Advisory Council members at www.experiencespermile.org/reports.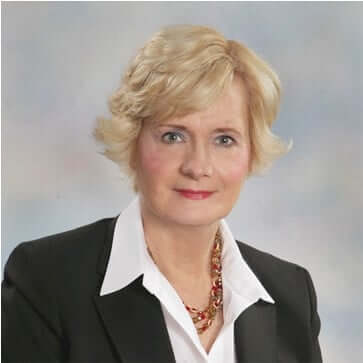 Karen Piurkowski
Senior Director
Global Content & Digital Marketing
HARMAN International
---